Sustainability is no longer an option. Today in our Thailand SAP user group (THSUG) session, we are honor to have speakers of leading organizations including private and public enterprises, joining us to share their practices/ case study about why sustainability is important, how's the impact on business and what they do on the path of the sustainability development. No matter where we are on the sustainability journey, we can always become a part of the process.
Wednesday 20th July 2022
Venue : 11 floor Surasak room 2-3 at Eastin Grand Sathorn Hotel
Time : 8.30-13.00 hrs.
Target Audiences: C-Level (Both IT & Business)
5 Minute Read Article: Click 
Webinar video record >> Click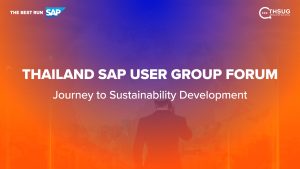 Agenda
08:30-09:00 hrs.         Registration
09:00-09:10 hrs.         Welcome address by Thailand SAP User Group Committee:
Teerapan Luengnaruemitchai, Managing Director, TCC Technology
Ply Samudavanija, SVP I – IT (AMD & Infrastructure), Gulf Energy Development
>>PDF Slides
09:10-10:40 hrs.          Panel Discussion: "Journey to Sustainability Development"
Panelists:
Ply Samudavanija, SVP I – IT (AMD & Infrastructure), Gulf Energy Development
>>PDF Slides
Polpiya Thitivesa, Director of Sustainability & Risk Management, Thai Beverage
>>PDF Slides
Rujira Rattayavisid, Head of Corporate Business Improvement, Thai Union
>>PDF Slides
Suraphon Buphagosum, First Deputy Vice President,
Sustainable Development 2 Dept., Stock Exchange of Thailand (SET)
>>PDF Slides
Teerapan Luengnaruemitchai, Managing Director, TCC Technology
>>PDF Slides
David Coldrey, Sustainability Lead, SAP SEA
>>PDF Slides
Moderator: Waleeporn Sayasit, GM, TCC Technology
10:40-11:00 hrs.            Coffee break
11:00-11:10 hrs.            SAP Best Run Awards Ceremony
11:10-11:40 hrs.            Exemplar Showcase – Sharing the How-to by Indorama Venture PCL
and Namsiang Group
11:40 – 11.50 hrs.          Closing Remark: Atul Tuli, Managing Director of SAP Indochina
11:50-13.00 hrs.             Networking Lunch