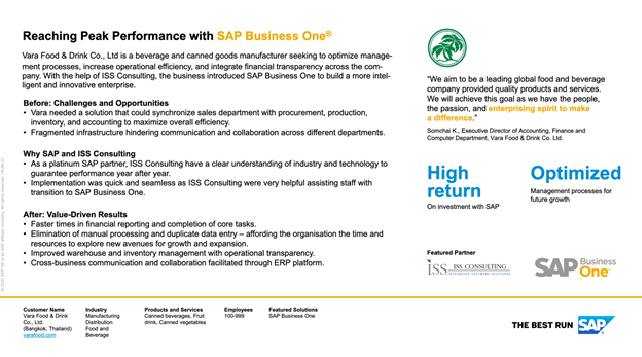 Vara Food & Drink Co., Ltd is a beverage and canned goods manufacturer seeking to optimize management processes, increase operational efficiency, and integrate financial transparency across the company. With the help of ISS Consulting, the business introduced SAP Business One to build a more intel-
ligent and innovative enterprise.
Before: Challenges and Opportunities
Vara needed a solution that could synchronize sales department with procurement, production,
inventory, and accounting to maximize overall efficiency.
Fragmented infrastructure hindering communication and collaboration across different departments.
Why SAP and ISS Consulting
As a platinum SAP partner, ISS Consulting have a clear understanding of industry and technology to
guarantee performance year after year.
Implementation was quick and seamless as ISS Consulting were very helpful assisting staff with
transition to SAP Business One
After: Value-Driven Results
Faster times in financial reporting and completion of core tasks.
Elimination of manual processing and duplicate data entry – affording the organisation the time and
resources to explore new avenues for growth and expansion.
Improved warehouse and inventory management with operational transparency.
Cross-business communication and collaboration facilitated through ERP platform.