Drivers in Thailand looking to buy a Toyota at a great price know to visit Toyota Friendship. Also providing expert maintenance services and care, Toyota Friendship is there throughout the Toyota journey. Customer confidence has led to strong growth, including the addition of new branches. But legacy IT systems had workers spending too much time on manual data entry when processing transactions with Toyota Motor Corporation (Thailand).
With the SAP® Business One application, the interface is now automated, improving cost tracking for promotional accessories and helping to ensure exact pricing. Now Toyota Friendship employees can spend less time entering data and more time focusing on business strategy. And that means more happy customers driving off in the perfect Toyota.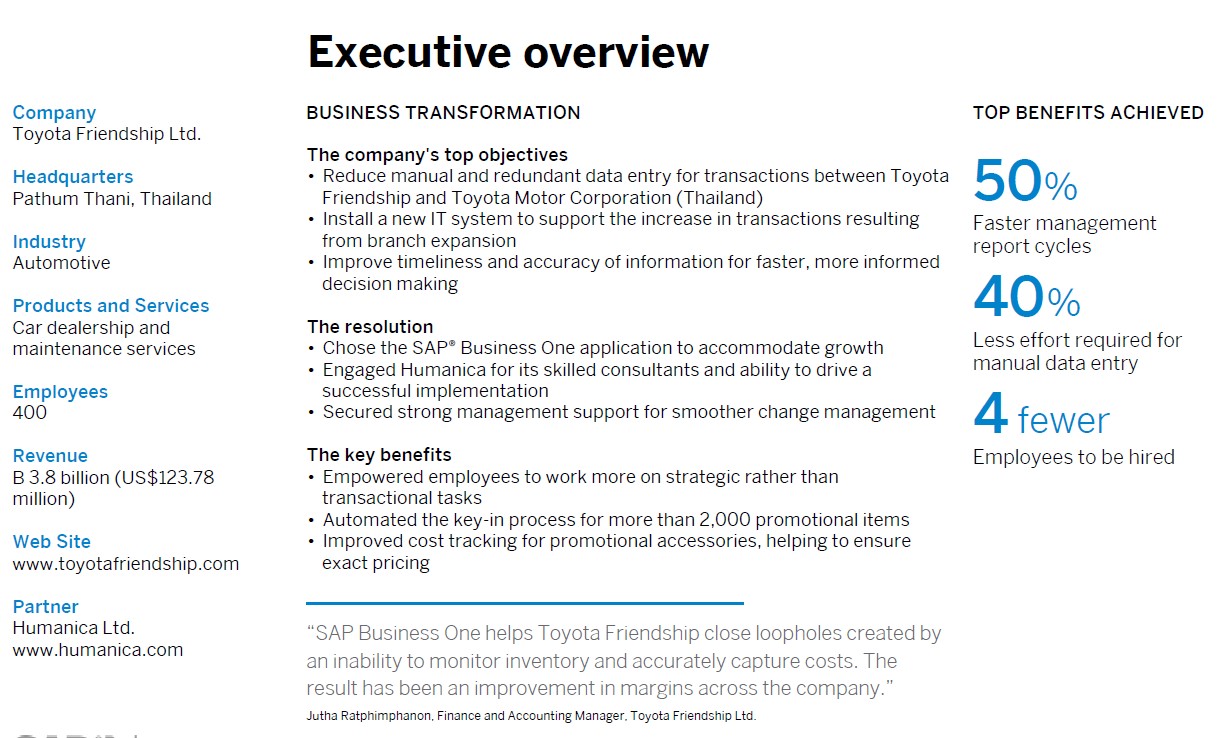 No part of this publication may be reproduced or transmitted in any form or for any purpose without the express permission of SAP AG. The information contained herein may be changed without prior notice.
Some software products marketed by SAP AG and its distributors contain proprietary software components of other software vendors. National product specifications may vary.
These materials are provided by SAP AG and its affiliated companies ("SAP Group") for informational purposes only, without representation or warranty of any kind, and SAP Group shall not be liable for errors or omissions with respect to the materials.
The only warranties for SAP Group products and services are those that are set forth in the express warranty statements accompanying such products and services, if any. Nothing herein should be construed as constituting an additional warranty.
SAP and other SAP products and services mentioned herein as well as their respective logos are trademarks or registered trademarks of SAP AG in Germany and other countries.
Please see http://www.sap.com/corporate-en/legal/copyright/index.epx#trademark for additional trademark information and notices.